Description
LIPTOSAFE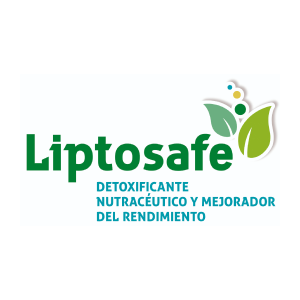 Nutraceutical – performance enhancer, detoxifier and recovery of delayed animals. Liptosafe contributes to a better feed digestibility and nutrients assimilation. Its use is well suited for addressing liver problems, intoxications and as support to high-performance animals.
Contribuye a una mejor digestibilidad del pienso y asimilación de nutrientes. Está especialmente recomendado ante problemas hepáticos, intoxicaciones y como apoyo a los animales de alto rendimiento.
Composition: hydrolyzed yeast, nutraceutical plant extracts, organic acids and vitamins.
Indications: Liptosafe helps to detoxify in mycotoxicosis and other intoxications caused by harmful substances in the feed.
Instructions of use: 0.5 – 1L / 1000 L of drinking water.
Species: all.
Presentation: liquid and powder.